Luke 17:33
Whosoever shall seek to save his life shall lose it; and whosoever shall lose his life shall preserve it.
Matt. 10:38
-
And he that taketh not his cross, and followeth after me, is not worthy of me.
Christ gave his physical live for YOU, can you do your part and give your life to him?
After pual asked if God would take away a infirmity, and he said no
2 Cor. 12:9
- And he said unto me, My grace is sufficient for thee: for my strength is made perfect in weakness. Most gladly therefore will I rather glory in my infirmities, that the power of Christ may rest upon me.
Matt.16:24
-Then said Jesus unto his disciples, If any man will come after me, let him deny himself, and take up his cross, and follow me.
Mark 8:34
/
Luke 9:23
As we read through our bibles we see how the prophets and apostels wrestled against the enemy and were often killed. We are to be a spiritual people. If we allow earthly concerns to rule we are not worthy of him. There are countless examples of good men in the Word that took up their cross. I most often think of Christ (Ex:
Is. 53:5
), Job (Job1),& Joseph (Gen.45) for they always took a seemingly horrible situation and found how they could serve as an instrument of God's will. God likes can do people.
OUR COMFORT IN GOD
Matt.11:28
- Come unto me, all ye that
labour
and are heavy laden, and I will give you rest.
Of course all true Christians know that Christ is that rest! (
Matt.11:29
)
People don't have to go out of their way to trangress God. Today it seems it is hard to even find truth and morals. **
Amos 8-11
/**
Rev.4:11
Luke 12:4-5
/4And I say unto you my friends, Be not afraid of them that kill the body, and after that have no more that they can do. 5But I will forewarn you whom ye shall fear: Fear him, which after he hath killed hath power to cast into hell; yea, I say unto you, Fear him./ One of Satans names is death-
Heb.2:14
Christ is our Rest!
GREAT TRIBULATION
Mark 13:9
- But take heed to yourselves: for they shall deliver you up to councils; and in the synagogues ye shall be beaten: and ye shall be brought before rulers and kings for my sake, for a testimony against them./
Matthew 10:17
Matt.24:9
- Then shall they deliver you up to be afflicted, and shall kill you: and ye shall be
hated
of all nations
for my name's sake
.
Matt.13
(:21)-But since he has no root, he lasts only a short time. When trouble or persecution comes because of the word, /by and by (immediately) he is offended (falls away)./
Mark 4:17
/
***
Romans 8:35
Who shall separate us from the love of Christ? Shall trouble or hardship or persecution or famine or nakedness or danger or sword?
***
2 Corinthians 12:10
That is why, for Christ's sake, I delight in weaknesses, in insults, in hardships, in persecutions, in difficulties.
For when I am weak, then I am strong
./
1 Thessalonians 3:7
2 Thessalonians 1:4
Therefore, among God's churches we boast about your perseverance and faith in all the persecutions and trials you are enduring.
***
Revelation 2:10
Do not be afraid of what you are about to suffer. I tell you, the devil will put some of you in prison to test you, and you will suffer persecution for ten days. Be faithful, even to the point of death, and I will give you the crown of life.
Revelation 3:16
So then because thou art lukewarm, and neither cold nor hot, I will spue thee out of my mouth.
Profess your alligance to the Almighty
PUTTING ON THE NEW MAN
Rom. 12:1-2
/1I beseech you therefore, brethren, by the mercies of God, that ye present your bodies a living sacrifice, holy, acceptable unto God, which is your reasonable service. 2And be not conformed to this world: but be ye transformed by the renewing of your mind, that ye may prove what is that good, and acceptable, and perfect, will of God.
Luke 14:25-33
/***
Romans 6:9-14
/
1 Peter 2:24
/
Col.3:5-11
2 Cor. 5:14-15
/14For the love of Christ constraineth us; because we thus judge, that if one died for all, then were all dead: 15And that he died for all, that they which live should not henceforth live unto themselves, but unto him which died for them, and rose again./
Romans 6:11
Those who take part in one of the two resurections shall recieve their everlasting reward after the flesh!
Jn. 12:24
-Verily, verily, I say unto you, Except a corn of wheat fall into the ground and die, it abideth alone: but if it die, it bringeth forth much fruit. Christ died for us, so that we may put of the old man and put on the new!
Romans 6:5-7
/For if we have been planted together in the likeness of his death, we shall be also in the likeness of his resurrection: 6Knowing this, that our old man is crucified with him, that the body of sin might be destroyed, that henceforth we should not serve sin. 7For he that is dead is freed from sin.
Cross
- /Strong's/#4716/ Greek/
stauros
a stake or post, a pole or cross(instrument of capital punishment)fig. exsposure to death(death=devil)!, i.e. self denial!; by impl. the atonement of Christ//base root is
stao
- various applications (lit. or fig.) appoint, covenant, establish, hold up, lay, set up.
MATTHEW 5:39
But I say unto you, That ye resist not
evil
: but whosoever shall smite thee on thy right cheek, turn to him the other also./ evil being used in the English translation is a major Mis-translation. when one reverts it back they see that this is to say
Hardships
! Ex. Strong's/# 4190-4192! *The subject of this area of Matt. is ministry (Check for yourself and yet so many pervert this verse! Now that we have shown the mistranslation of evil let us cover turning the other check with the subject! We are told how to communicate with others according to ministry! We are to soe seed and not to over load others! We are to do so in a humble matter with those who are interested!
If I went to a preacher who teaches Pre-tribulation "rapture" and is at His church and perhaps before his congregation, and said that is the teachings and docorines of devils and he slapped me, I should note that I overloaded him and should turn the other check! This verse has nothing to do with defending one's self physicaly when in danger. God exspects us to have common sense.
Mark 4:35-41
35And the same day, when the even was come, he saith unto them, Let us pass over unto the other side.
36And when they had sent away the multitude, they took him even as he was in the ship. And there were also with him other little ships.
37And there arose a great storm of wind, and the waves beat into the ship, so that it was now full.
38And he was in the hinder part of the ship, asleep on a pillow: and they awake him, and say unto him, Master, carest thou not that we perish?
39And he arose, and rebuked the wind, and said unto the sea, Peace, be still. And the wind ceased, and there was a great calm.
40And he said unto them, Why are ye so fearful? how is it that ye have no faith?
41And they feared exceedingly, and said one to another, What manner of man is this, that even the wind and the sea obey him?
notice Christ said we are going over! Christ being the Word of God when he says something one can trust that it is gonna happen! Also notice that during the rageing strom Christ was relaxing in the rear of the ship without fear! He knew there was nothing to fear cause he knew it was God's will that they go over! This just goes to show that when we face hard times we shall not let those times work on our faith. One can study the word day in and day out and acquire much knowledge but without faith is no good, which is why I see this area of Mark following the parable of the soils!
Hebrews 11:6
But without faith it is impossible to please him: for he that cometh to God must believe that he is, and that he is a rewarder of them that diligently seek him.
James 1:12
Blessed is the man that endureth temptation: for when he is tried, he shall receive the crown of life, which the Lord hath promised to them that love him.
When we Praise The All High God and embrace him and his mercy (Sacrifice) there is nothing we can't overcome!
TAKE COMFORT IN GOD (rewards will follow in due time)
Matthew 22:37-40
37Jesus said unto him, Thou shalt love the Lord thy God with all thy heart, and with all thy soul, and with all thy mind.
38This is the first and great commandment. (Covers the first five Commandments/ Personal relationship with God)
39And the second is like unto it, Thou shalt love thy neighbour as thyself. (Covers the last 5 commandments / Relationships with others)
40On these two commandments hang all the law and the prophets.
1 John 5:5
Who is he that overcometh the world, but he that believeth that Jesus is the Son of God?
*****If God be for us who can be against us?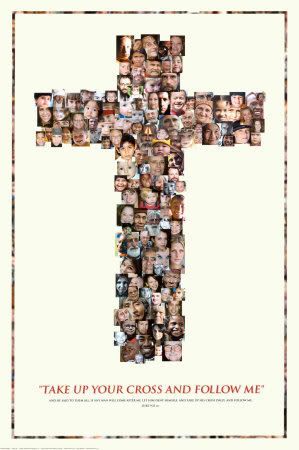 Eze.33:1-8
The Laws of a nation come
2nd
only to the Law of God.(Romans 13:1-7) God created government to establish order, punish evil, and promote justice (Genesis 9:6; 1 Corinthians 14:33; Romans 12:8). As a nation strays from God the nation as a whole pays the price! However God can protect individuals at all costs yet his sheep fear not those who can bring forth physical death.
We are told that man sets up a one world system, it recieves a death blow and it is revived by the anti for his agendas Rev13/Dan.7. We are told many other places of a time approaching when we shall overcome tribulation.
Therefore it is up to a watchman to allow the spirit to know when and where to draw the line between Church and state and state has already been making its move for sometime now.
Acts 5:27-29
And when they had brought them, they set them before the council: and the high priest asked them,
Saying, Did not we straitly command you that ye should not teach in this name? and, behold, ye have filled Jerusalem with your doctrine, and intend to bring this man's blood upon us.
Then Peter and the other apostles answered and said, We ought to obey God rather than men.
Acts 5:40-42 (King James Version)
And to him they agreed: and when they had called the apostles, and beaten them, they commanded that they should not speak in the name of Jesus, and let them go.
And they departed from the presence of the council, rejoicing that they were counted worthy to suffer shame for his name.
And daily in the temple, and in every house, they ceased not to teach and preach Jesus Christ.
The time will come for you to take up your cross as well!